What are Catapult's Indoor Analytics?
Catapult's Indoor Analytics is a set of algorithms and metrics designed for the T7 device that allow for the quantification of Jumps and Estimated Distance.
The Indoor Analytics algorithms rely on the inertial sensors in the T7 device to detect Jumps as well as provide an estimation of Total Distance accumulated by an athlete without the need for GPS.
Catapult's Indoor Analytics can be configured to adapt to the mounting location of the device on the athlete, either on the vest or attached to the athlete's waist.
Requirements
For Post Download detection of Indoor Analytics
Vector T7 Device(s) to detect Indoor Analytics
OpenField Console software version 3.10.0 or above
IndoorAnalytics module applied to your account. Please contact support to have this module enabled for your account.
Indoor Jump bands set on athletes
Desired Device Location Setting applied on the Cloud
For Live Detection of Indoor Analytics
All of the above requirements, plus:
Vector T7 Device Firmware version 1.1.0 or above
Vector Receiver Firmware version 8.5.0 or above
Please contact support to ensure the correct version of T7 and Receiver firmware is applied to your devices.
Setting Indoor Jump Bands
Once your account has been set up for Indoor Analytics, a set of default Indoor Jump Bands will be applied to all athletes in your account.

If you wish to change the Indoor Jump Bands:
Log into OpenField Cloud
Navigate to Settings > Bands
Select Indoor Jumps
Update Bands as desired. For more information on updating bands see Bands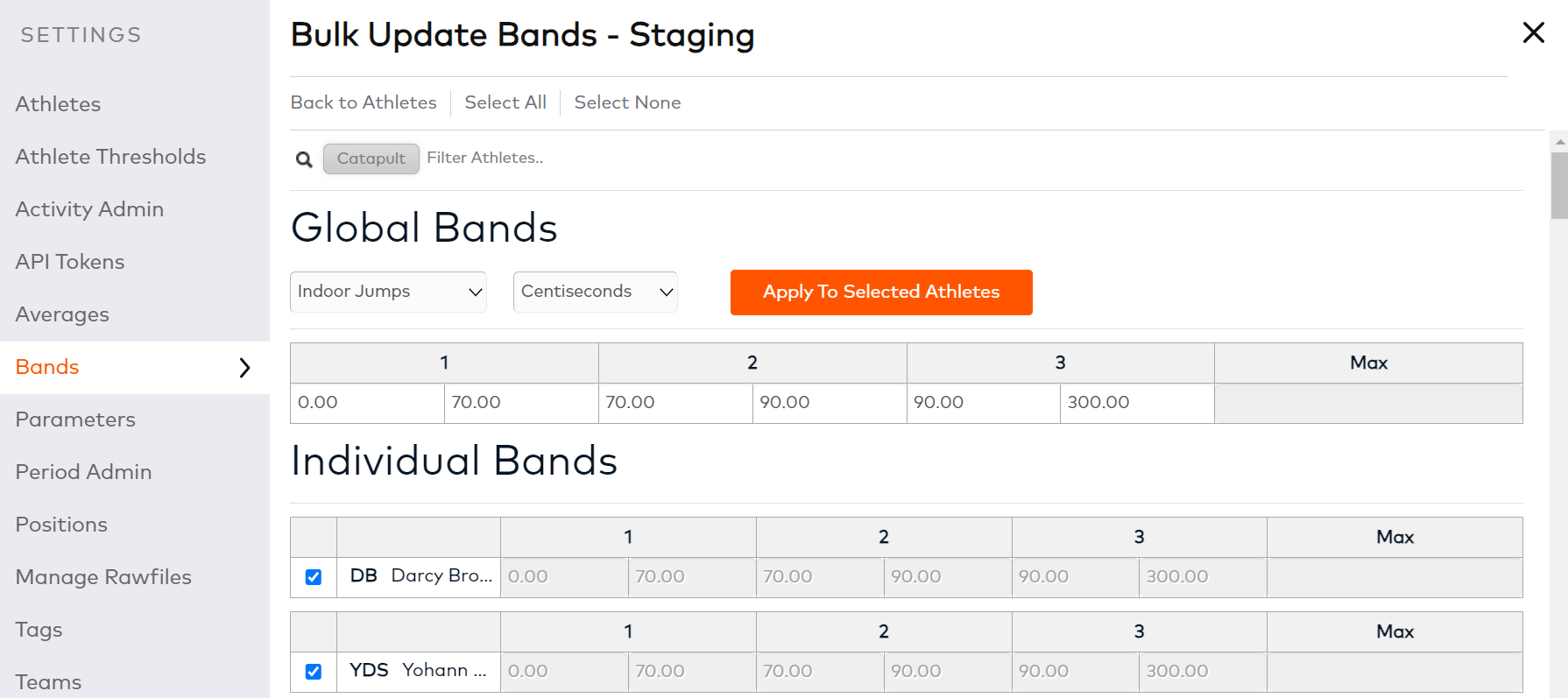 Note that Indoor Jumps require 3 bands (Low, Medium, High) and can only be set in centiseconds.

Setting Device Location
The Indoor Jumps algorithm is able to be configured to adapt to the Device Location on the athlete, either the Vest or the Waist.
The Device Location is set at the Team level in OpenField Cloud.
For the most accurate results, it is important to set the correct Device Location before processing device data.
Note that when a Device Location is configured, this Device Location will be applied to all data processed for athletes/devices in that team after the setting has been synced down to the Console.
To set the Device Location:
Log into OpenField Cloud
Navigate to Settings > Teams > Select desired team
Scroll down to Device Location - Indoor Analytics
Select the desired Device Location, Vest or Waist




Select Save Changes
Run a Fast Sync on OpenField Console to sync down changes
Viewing Indoor Analytics Metrics in the OpenField Console
Download data from the Vector T7 device(s) or reprocess existing raw files from T7 devices.
For more information, please see Downloading Data from devices and Reprocessing Raw Files/Session Data.
Open the desired Activity
To view the default Indoor Analytics dashboard, click the + button on the dashboard bar > Default > Indoor Analytics




To view Indoor Analytics metrics in a Table, Pie or Chart widget create a new widget in a dashboard or edit an existing widget and select the parameters under the Indoor category from the Parameter Picker.




To graph Indoor Jump events on the Console timeline, graph the desired athlete(s), right click on an Athlete name and select Graph Events > Version 2 > Jumps



Each Jump event flag can be hovered over with the mouse and it will display information such as the time of the event and the band of the Jump.

For more information see Graphing Data




Perform a Sync on the OpenField Console to report on Indoor Analytics data on the Cloud.
Viewing Indoor Analytics Metrics on OpenField Cloud
Once device data has been downloaded and/or processed in OpenField Console, run a Sync on the Console
Log into OpenField Cloud
In a dashboard, create a Cloud Widget with any of the parameters under the Indoor Analytics category, then load your desired activities for analysis

Please see Cloud Widgets for more information


Indoor Analytics Parameter Definitions
Indoor Analytics Parameter Definitions can be found here.