Contents of Article
Issue: 'Invalid' Download status from the Data Transfer Window
When a session does not meet the criteria to constitute a session (i.e. less than 2 minutes), the session will display as 'Invalid'. However if your session is still displayed as 'Invalid' yet the session time is longer than 2 minutes, please see below.


Download Status shows as 'Invalid'
Expected Behaviour:
The Data from the Devices Downloads and the Status shows as 'Finished'

Troubleshooting Steps:
Please go to the Transfer Window:


​

Once here, please select 'import raw' - then find the 'Catapult Sports' folder and the 'Retriever' (see below)

​

Please then select the folder with the date of the 'Invalid' session - select once so the file is highlighted, then select 'OK'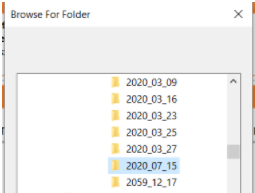 This should import the data into OpenField.
Please also see How to Re-download Raw Files/Sessions as another troubleshooting step.