Overview of Heart Rate Monitoring
Monitoring heart rate is a common form of practice for sports scientists and performance staff that provides valuable insight into an athlete's internal load or response to a stimulus.
Heart rate, measured in beats per minute (BPM), can be derived from electrodes placed on the skin on the chest region to capture electrical signals generated by the heart, typically through methods of electrocardiography (ECG). These types of electrodes line the inside of Catapult's integrated heart rate vests (Elite V2.1 & Elite V2.3), whereby the signal is captured and passed through to the Vector S7 or G7 unit plugged in at the back of the vest, allowing for non-invasive and seamless capture without the need for any other technology.
Improvements & Validation of ECG Heart Rate Algorithm
Catapult's improved algorithm addresses previous issues experienced around an inconsistent heart rate trace (drop outs and flat lines) and erroneous overshooting of heart rate maximal recordings. These improvements specifically relate to refined signal processing techniques which focused on:
Enhanced signal detection
Improving threshold calculation
Implementing advanced interpolation methods
To validate these algorithm improvements, a series of movement trials in both controlled and performance based environments were conducted.
Controlled
Male and female recreationally active participants performed various linear and multi-directional movement trials of varying intensities & durations. Each participant wore a Catapult Elite V2.3 garment with a S7 securely clipped into the vest. To validate heart rate data derived from the proprietary algorithm against a criterion measure, participants also wore a Polar H10 heart rate monitor with Pro Strap directly below the garment.
Below is a visual representation of heart rate traces comparing Catapult's old and new algorithm (Figure 1) as well as a comparison with Polar's proprietary algorithm (Figure 2).

Figure 1. Comparison of how Catapult's improved ECG algorithm handles noisy ECG data compared to the original algorithm .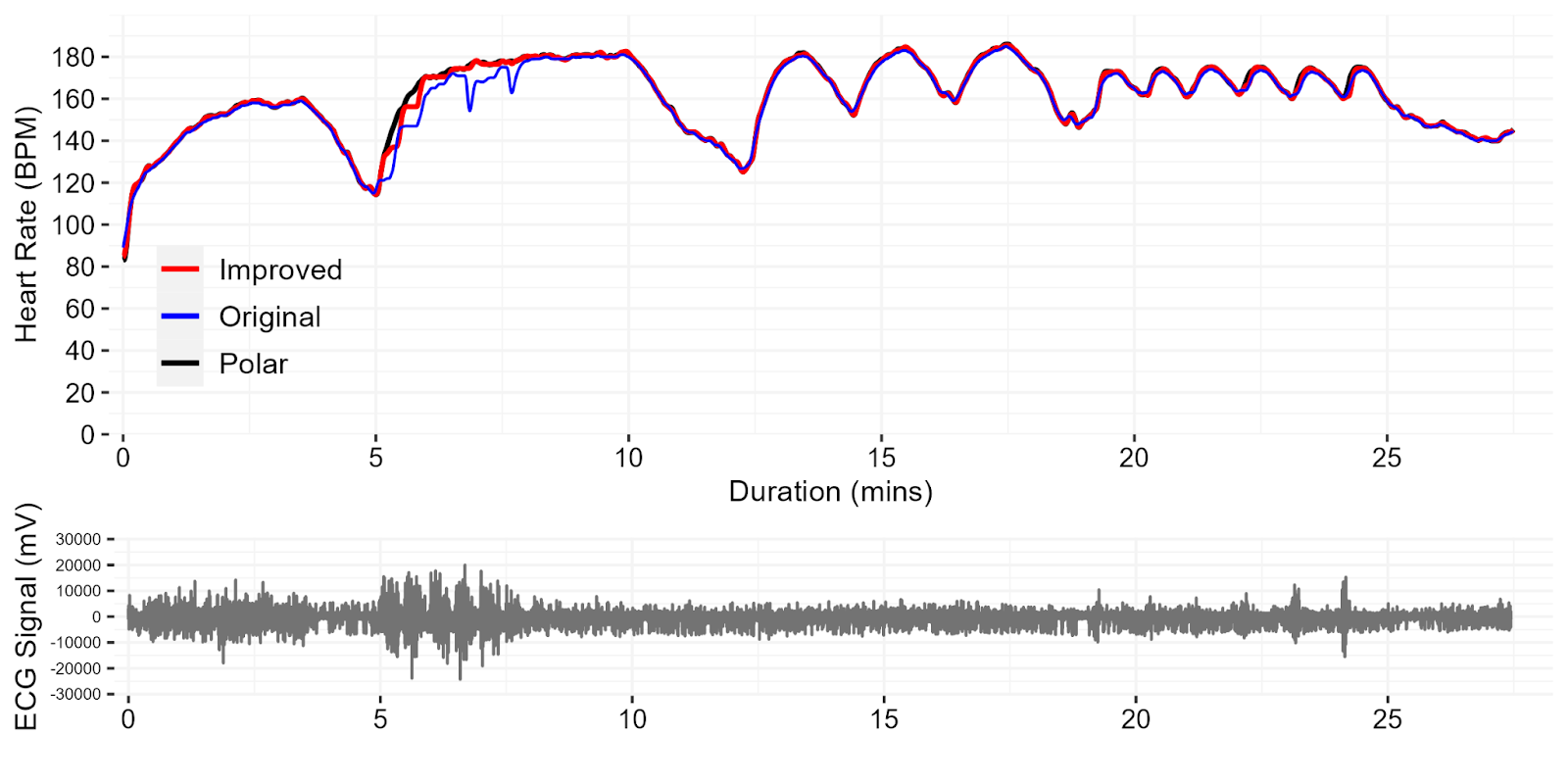 Figure 2. Heart rate data from a single participant during a controlled trial, comparison of Catapult's improved ECG algorithm against Polar's proprietary algorithm and Catapult's original algorithm.


Performance
To analyse performance of the improved algorithm independently, elite male Rugby Union players completed a training session and competition match consisting of high intensity activity and body contact wearing Catapult's Elite V2.1 garment with a Vector S7 fitted.
When analysing an individual athlete's heart rate trace using the new (red) and old (blue) algorithms during high intensity exercise it is very evident as to the improvements (Figure 3). The old algorithm is unable to maintain a continuous BPM trace, which resulted in a total of 13% data loss in dropouts. In comparison the new algorithm is far more effective in recording a continuous BPM, resulting in less than 1% of data loss due to dropouts.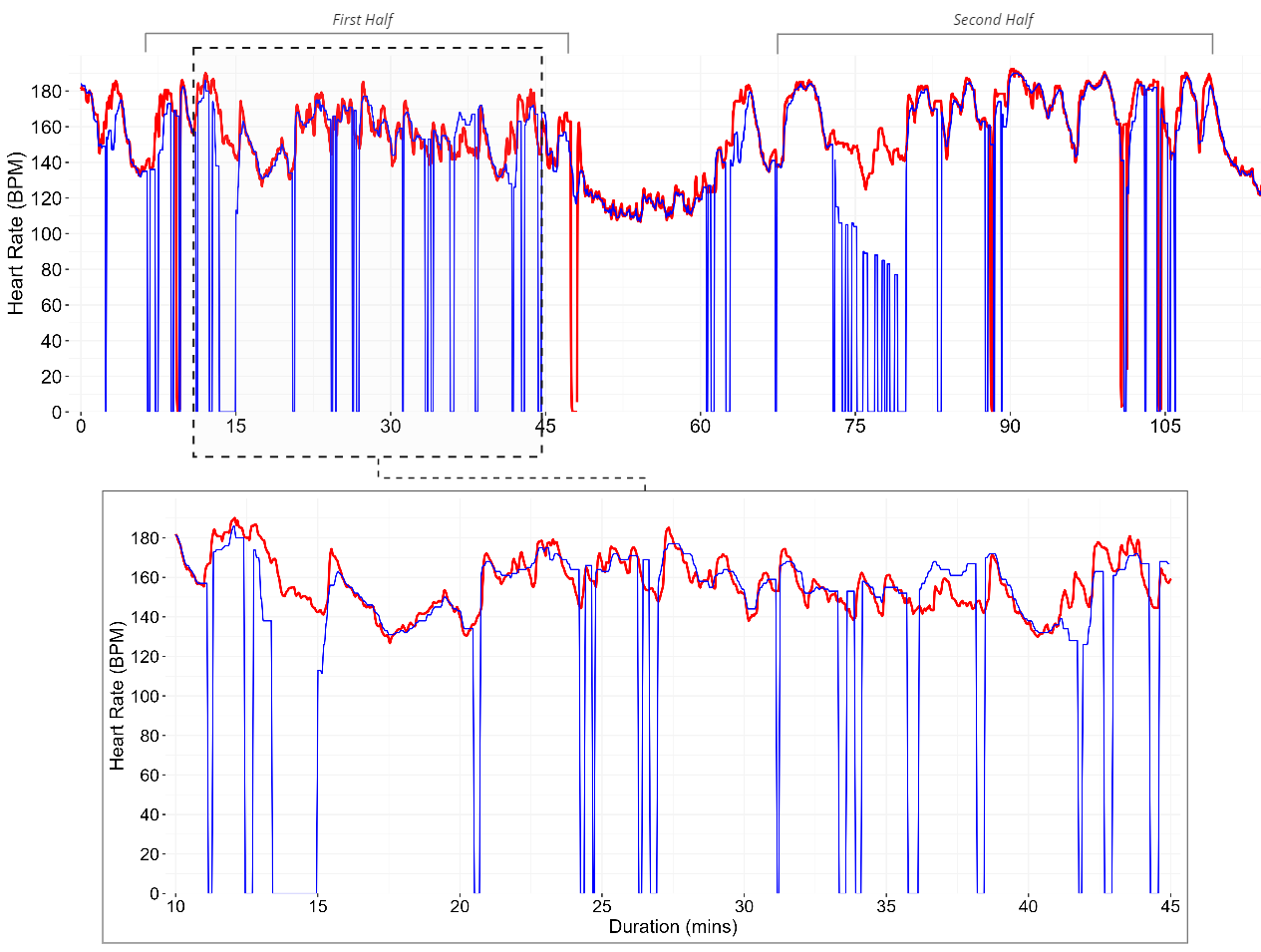 Figure 3. Comparison of Catapult's improved ECG algorithm compared to the original algorithm during high intensity activity inclusive of body contact in an elite athletic population.
Summary & Recommendations
Enhancements in Catapult's ECG algorithm now address prior problems in signal processing, reducing data dropouts, flat-lining of heart rate traces, and erroneous heart rate overshooting.
Catapult's improved ECG algorithm, coupled with the Elite V2.3 Garment, exhibits strong agreement with Polar's industry-standard heart rate detection algorithm, recognized as a gold standard for body-worn sensors.
With the correctly sized and properly worn garment, customers will experience notable improvements in the accuracy and reliability of ECG-derived heart rate data, surpassing the performance of the previous algorithm. Information regarding garment sizing recommendations can be found here.