iPad Support by Model
The below table shows a breakdown of the supported iPad versions as of 1st October 2021. For the very best performance, an iPad Air (5th gen) or iPad Pro (5th gen) is recommended. In general, for any newer models, any iPad >3GB RAM is supported up to 25 devices and >8GB up to 50 devices.
To find out your current iPad model click here.
Device
Release Year
Processor
RAM
Normal Mode
High Capacity Mode
iPad Pro (6th)
2022
Apple M2

16GB
8GB

Up to 50 Devices
Up to 100 Devices
iPad Pro (5th)
2021
Apple M1
16GB
8GB
iPad Air (5th)
2022
Apple M1
8GB
iPad Pro (4th)
2020
Apple A12Z
16GB
8GB
iPad Pro (3rd)
2018
Apple A12X
16GB
8GB
iPad (10th gen)
2022
Apple A14
4GB
Up to 25 Devices


Up to 50 Devices


iPad Air (4th)
2020
Apple A14
4GB
iPad mini (6th)
2021
Apple A15
4GB
iPad (9th gen)
2021
Apple A13
3GB
iPad mini (5th)
2019
Apple A12
3GB
iPad Air (3rd)
2019
Apple A12
3GB
iPad (8th gen)
2020
Apple A12
3GB
iPad Pro (2nd)
2017
Apple A10X
6GB
4GB
iPad (7th gen)
2019
Apple A10
3GB
iPad (6th gen)
2018
Apple A10
2GB
NOT RECOMMENDED
iPad Pro (1st)
2015
Apple A9X
4GB
2GB
iPad (5th gen)
2017
Apple A9
2GB
iPad Air 2
2014
Apple A8X
2GB
iPad mini 4
2015
Apple A8
2GB
iPad Air (1st)
2013
Apple A7
1GB
iPad mini 3
2014
Apple A7
1GB
Recommended iPad iOS version
It is recommended that you ensure your iPad is updated to the latest available iOS version.

At a minimum, we recommend that your iPad is updated to iOS 16 to ensure the latest Vector Live version is able to be downloaded and installed from the App store.

What is High Capacity Mode?
The number of athletes supported by each iPad version is dependent on whether the Vector devices are in high capacity mode. High Capacity Mode switches the frequency at which the devices send live data to the iPad via the receiver, from 10hz to 5hz.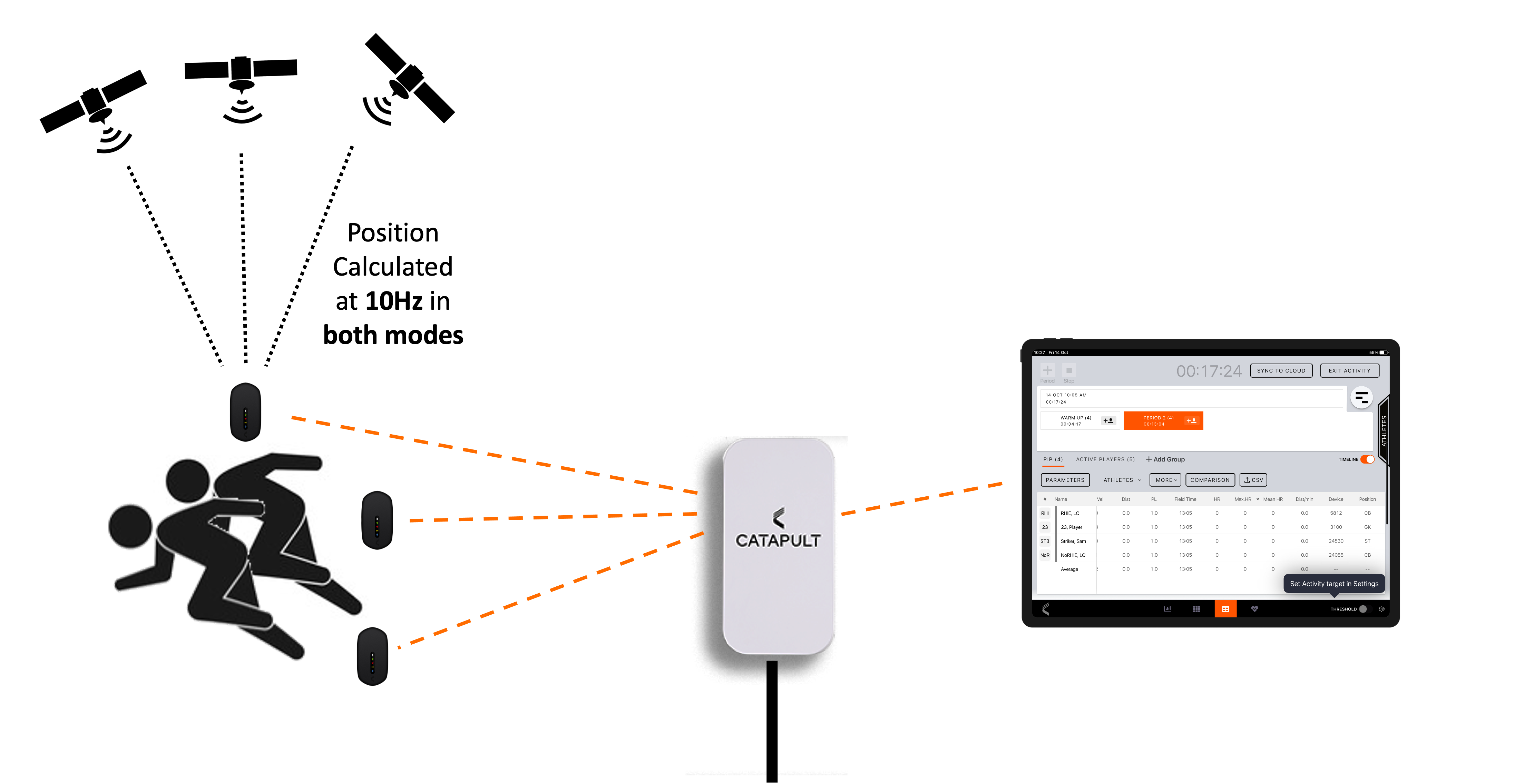 IMPORTANT: All of your data output will be exactly the same both live and post download whichever mode is selected. The device will continue to collect at 10hz it is just sent to the receiver at 5hz and all data is backfilled.
If you do not plan to use the OpenField Console (laptop) live it is highly recommended that you run your devices in high capacity mode to reduce the load on the iPad, saving battery and improving performance. The only reason not to run devices in high capacity mode is if you would like to view the raw traces live on OpenField Console.
Please contact support if you want to enable high capacity mode for your devices.