What is Metabolic Power?
The Metabolic Power concept estimates the energy demands of acceleration and deceleration events derived from GPS. Metabolic Power is only available when the system is being used Outdoors with GNSS.
Catapult's Metabolic Power parameters are based on the Metabolic Power theory published in the scientific works of Manetti et al. (2002) and Osgnach et al. (2010). The scientific work assumes linear acceleration and deceleration are the primary drivers of Energy cost.
Catapult's Metabolic Power is unique in the fact that it uses a revised model designed for team sports. This allows for more accurate results.
How is Metabolic Power applicable?
Metabolic Power is used to better understand the energy costs (or effort) of the athletes in Activities and Drills in high intensity team sports.
Collecting and analyzing Metabolic Energy and Power is beneficial in estimating the overall energy required for an intense Activity as an athlete may operate at an intensity that is greater than the athlete's maximal oxygen consumption, thus making it more practical for measuring Energy costs than measuring the oxygen consumption (VO2) in high intensity sports.
How is Metabolic Power Calculated?
Acceleration and Deceleration data used in Catapult's Metabolic Power calculation is collected from the GPS and is differentiated from the Velocity data before any filters are applied to smooth the data. At Catapult we use a discrete Gaussian filter with a width of 1s. Accelerations exceeding 1g are excluded and assumed to be due to GPS errors. This Acceleration/Deceleration along with the velocity data is then used to calculate Metabolic Energy and Power.
Our Model is based on Osgnach et al. (2010)'s Metabolic Energy model
Osgnach's Metabolic Energy model assumes accelerated running on flat terrain, as a first approximation, is biomechanically equivalent to running at a constant speed on a treadmill with an incline. During acceleration, the body leans forward shortening the angle (α) between the runner and the terrain. He termed this incline while running at a constant speed as an 'Equivalent slope' (ES). The Equivalent slope is calculated as follows:
Equivalent slope (ES) = tan(90 - α)
α = the angle between the runner and the terrain
Osgnach's also assumed that during sprinting, athletes exert greater force than their body weight by the ratio of g'/g. This is called 'Equivalent Mass'. This is the additional force imposed on the athlete by the acceleration itself. Equivalent Mass will increase as the slope of the incline increases. The equivalent mass is calculated as follows:
Equivalent Mass (EM) = g'/g
g' = vectorial sum of forward acceleration and the acceleration of gravity
g = acceleration of gravity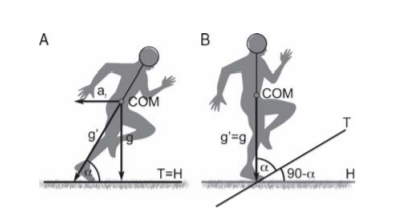 In conclusion, if the forward acceleration is known, Equivalent slope (ES) and Equivalent Mass (EM) can be determined. Metabolic Energy or Energy Cost of accelerating expressed in J/kg can then be calculated from Equivalent slope (ES) and Equivalent Mass (EM) with the following Equation
Metabolic Energy (EC) = fn (ES) x EM x KT
KT = a fixed terrain constant of 1.29 to account for the extra energy required for the grass surface.
fn = 155.4(ES)5 - 30.4(ES)4 - 43.3i3 + 46.3(ES)2 + 19.5(ES) + 3.6
Metabolic Power expressed in W/kg can then be calculated from Metabolic Energy Cost (EC) and running speed (v):
Metabolic Power (MP) = EC x v
v = running velocity

How to set Bands/Dwell Time for the Parameter
Metabolic Bands
For instructions on how to set Bands for Metabolic Power, please see our Bands article. The user will have to set bands for the "Metabolic Power" drop down option.

Metabolic Power Dwell Time
The Metabolic Power Dwell Time is the duration in seconds that must be maintained within a certain Metabolic Power Band for an effort to be detected.
In the Cloud, select Settings.

Navigate to the Teams tab.

Click on the team you want to set Metabolic Power Dwell Time (s) for.

Beneath Metabolic Power Dwell Time (s), type in the required Dwell time in seconds.

Click Save Changes.
Metabolic Parameter Definitions
For a list of Metabolic Power parameters, please see our OpenField Cloud Parameter Definitions article. The definitions can be found under the Metabolic Power section.
References
Minetti, Alberto E; Moia, Christian; Roi; Giulio S; Susta, Davide; Ferretti, Guido. "Energy cost of walking and running at extreme uphill and downhill slopes". in J Appl Physiol. Vol 93, pp 1039-1046. 2002.
Osgnach, Cristian; Poser, Stefano; Bernardini, Riccardo; Rinaldo, Roberto; Di Prampero, Pietro Enrico. "Energy Cost and Metabolic Power in Elite Soccer: A New Match Analysis Approach". in Medicine & Science in Sports & Exercise. pp 170-178. 2009.0