What is Football Movement Profile (FMP)?
Football Movement Profile (FMP) developed by Catapult uses inertial sensor derived algorithms to detect Football specific movements and categorize them into multi directional (dynamic) and steady state categories as well as different intensities (low, medium, high).
Identification of these movements allows for better insights on mechanical work done by Athletes during an Activity. Thereby, allowing practitioners to make more informed decisions on load management both live and post Activity.
FMP movements can be categorized into the following Movement Categories: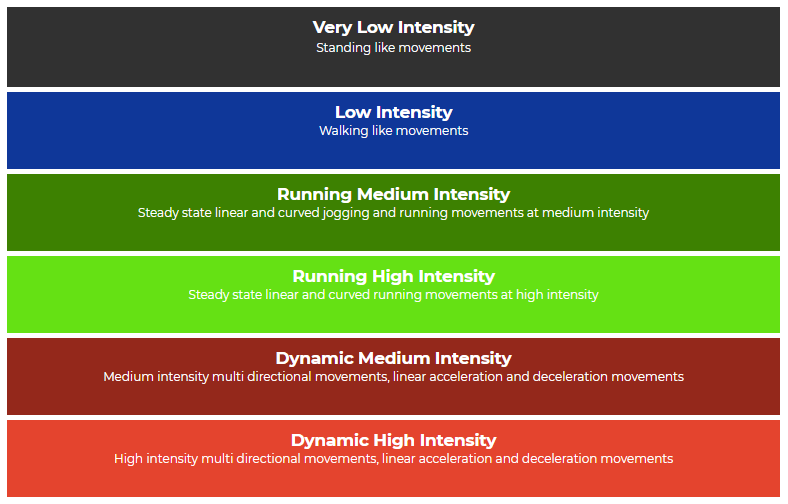 How to setup the Vector Live App for FMP?
The FootballMovementProfile module must be applied to your account. If you want to add the module please contact support for assistance.

Install Vector Live App version 2.2+

Vector Device S7, G7 or X7 is needed with Device Firmware 7.1+
Detecting and Viewing FMP Metrics in the Vector Live App
Start a Live Activity on the Vector Live App. Please see our Vector Live App - Quick Start Guide for more information.

Tap on either the Tile, Table or Heart Rate Dashboard icons.

From any of the above Dashboards, tap 'Parameters'.

Tap the Football Movement Profile Parameter Category from the left hand menu.

Tap to add a check to the check box beside each of the Football Movement Profile parameters you want to add to the Dashboard.

To view Football Movement Parameters parameters in the Chart Dashboard, click the star next to the FMP parameter to favorite the parameter. It will now populate in the Parameters list for the Chart Dashboard (first Dashboard icon) in the Vector Live App.

Tap 'Done'.

Navigate back to the Dashboard to view the Football Movement Profile data.
FMP Parameter Definitions
Football Movement Parameters can be found in our Football Movement Profile Parameter Definitions article.