Note: requires Vector Pro licence.
What is a Vector Stadium Receiver?
The Vector Stadium Receiver is a replacement for the the current ClearSky Anchor and can be used for all new ClearSky (LPS) systems, Vector live infrastructure (GPS) and to support live indoor/outdoor workflows.
Key Features –
180 Degree Beam for enhanced athlete data capture

250m Wireless communication range via Ultra Wideband (4GHz)

150m WiFi range with external antenna

Powered over Ethernet (PoE) or direct power supply for easy installation

Waterproof housing

Improved diagnostics and configuration tools
Vector Stadium Receiver Setups
Any system utilizing the Vector Stadium Receiver requires a single Master Stadium Receiver and a number of Secondary Stadium Receivers. The main purpose of the Master Receiver is to create a local WiFi network to deliver data back to the End User. Secondary Receivers are designed to increase field coverage and collect/transmit data from Vector Devices back to the Master Receiver via Ultra Wideband communications.
Vector Stadium Overview
Front View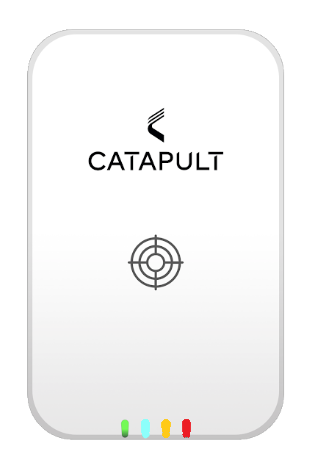 Rear View


Side View

LED Sequences
First LED is for Power Control
Illuminates

GREEN

when the Receiver is powered on.
Second LED is for Syncing Data with the Master Receiver
Illuminates

BLUE

and blinks when the Receiver is communicating with the Master Receiver over Ultra Wideband (UWB). The LED will be off if UDP Backhaul is disabled.
Third LED is for Network Connectivity
Illuminates

AMBER

when the Receiver is successfully connected to WiFi, Ethernet or USB.
Fourth LED is to indicate the Receiver Type
Illuminates

RED

if the Receiver is a primary or secondary Master.
Radio Frequency (RF)
The Vector Stadium Receiver and Vector Devices operate on the UWB RF Spectrum.