Vector T7 KEY NEW FEATURES
Device Position in Vest or Waist Mounted
Significantly Smaller Device Compared to T6 (46%) and S7 (73%)*
Live Jumps
Basketball Movement Profile
24-device charging dock with portable travel case

* Storage capacity reduced to 14 hours of memory with significant reduction in unit size.
ADDITIONAL FUNCTIONALITY
Indoor Tracking Capability
WiFi Enabled Dock
Local Positioning – Catapult ClearSky 10Hz+
Wireless Communication – Ultra-Wideband (UWB) and BT
Wireless Range - Up to 250m (UWB)
6 Hour Battery Life
Heart Rate - Polar 5.5kHz Compatible (all models)
Accelerometer - 3D +/- 16G. Sampled at 100Hz
Gyroscope - 3D 2000 degrees/second at 100Hz
Magnetometer - #D ±4900 μT at 100Hz
NEW METRICS
Data Feature
Vector T7
Vector S7
Details

Basketball Movement Profile

(BMP)

Post
Post

Dynamic - Turning and change of direction movements

Running - Steady jogging/running movements

Active - Walking-like movements

Settled - Standing-like movements

Jumping - Jumping movements

Player Load

Live + Post
Live + Post

Do not support interchangeability between the vest and waist location measurements.
Devices must be worn in the same location

Jump Metrics

Live + Post
Post

Jump height in Low/Medium/High segments

Estimated Distance

Post
Post

Estimated distance via inertial sensors

Distance, Velocity and Acceleration

Live + Post
Live + Post

ClearSky system required
Note: Estimated distance is derived from the units 3D accelerometer. As the name suggests, it is an estimate of distance only and is calculated by summating the instantaneous values produced in the frontal, vertical and lateral plane of player movements. Estimated distance is most reliable when quantifying 'distance' for players performing higher percentages of straight line running. As with GPS derived distance, sharp cutting movements may be under-represented for estimated distance and as a result caution should be used when comparing between players. It is recommended to compare individual players against their own normative values when using this metric.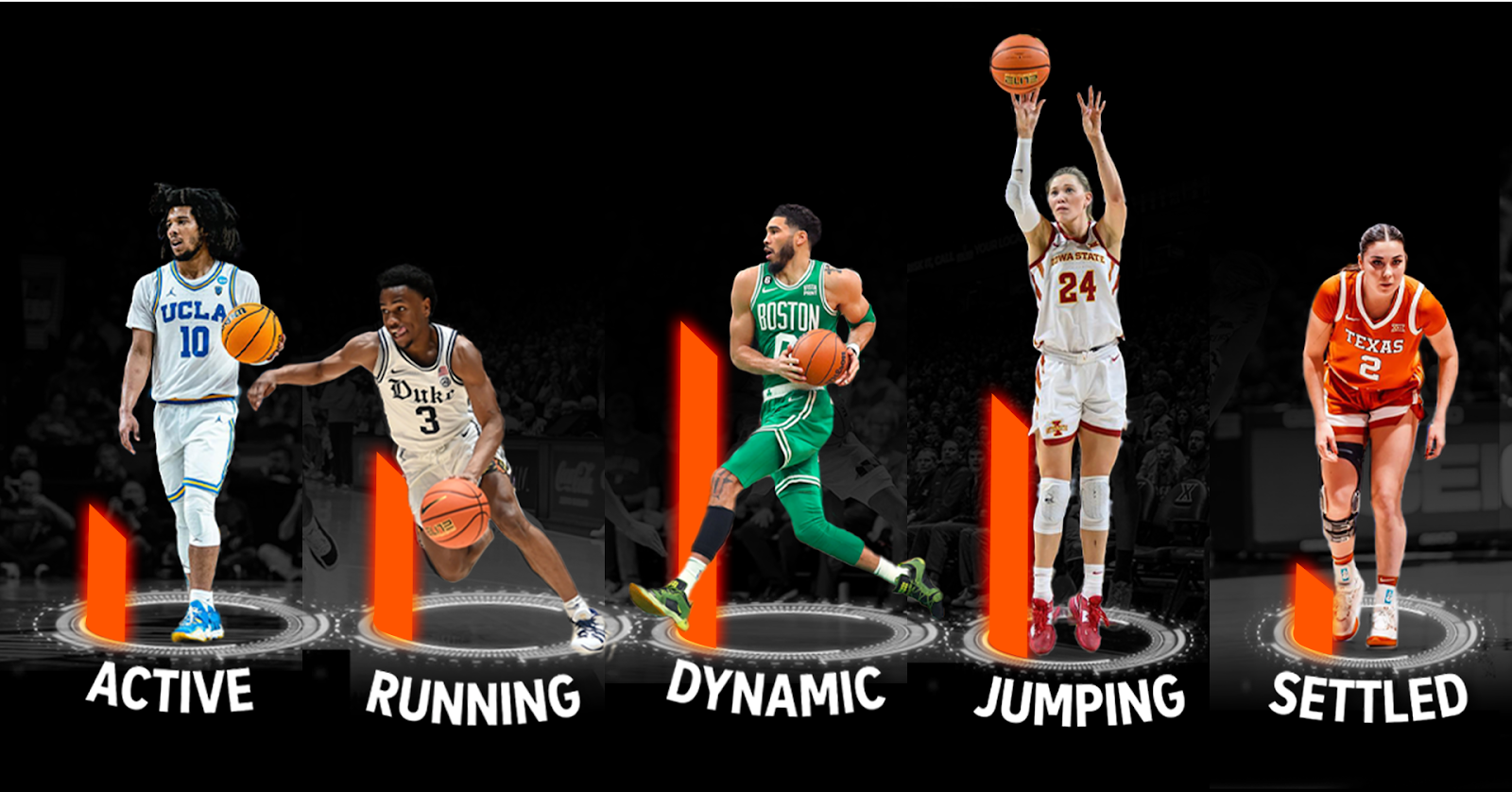 Basketball movement profile (BMP) Jump Metrics will be available live and post with Vector T7. Jump Metrics are calculated following a sequence of movement patterns beginning when a vertical movement is detected via accelerometers. If that vertical movement is not associated with a forward acceleration force, heuristic rules are applied to the data associated with air time, take-off and landing to identify a jump event and intensity. The new jump metrics in the basketball movement profile differ from IMA jumps which will remain available in the software. If users have not collected and analysed jump data previously, it is recommended that the new BMP jumps are preferred. If using IMA jumps currently, BMP jumps should be used alongside current data until sufficient historical data exists and a switch can be made. Users should note that when using RHIE metrics, jumps that form part of this calculation will remain as IMA jumps until further updates to the software.
DIFFERENCES IN PLAYERLOAD (au) BETWEEN T7, T6 and S7
The Vector T7 device will produce increased PlayerLoad when compared directly to Vector S7 or Vector T6 devices. These differences are attributed to the smaller mass and size of the Vector T7, which introduces a greater level of sensitivity to high frequency movements and impact. Table 1 summaries these expected differences.

Note: Given known differences exist between devices, it is recommended that legacy data collected via Vector T6 or Vector S7 devices is tagged within OpenField accordingly. This will allow for easier filtering of data for analysis and the ability to create normative data based on device type used.
DIFFERENCES IN T7 PLAYERLOAD (au) BETWEEN TRUNK AND WAIST
Internal testing has observed differences in PlayerLoad based on the location of where a Vector T7 is worn by the athlete (Table 2). For the same activity, PlayerLoad reported a greater output when worn at an anterior waist location compared to when worn at the trunk between the scapulae. As the intensity of movement increased, the absolute difference in PlayerLoad between tag locations was also seen to increase.

Note: Independent validation determined that vest placement resulted in the lowest error for measures of velocity, acceleration, and distance while placement of the device at the front of the waist resulted in the highest error. That said, regardless of device placement all locations resulted in low error across each measure with all RMSD ≤ 0.85. As a result of observed differences in data for device placement, it is not possible to compare data collected at different locations (i.e. waist vs vest). Also, users should be consistent with their device placement when using waist mounted pouches. The pouches should be positioned correctly on the waistband and be consistent across all shorts worn by a particular athlete.
IMA Acceleration/Deceleration and Change of Direction (COD) metrics will also be impacted by device location/orientation. When the T7 is worn in the traditional vest, the reported values will be comparable to previously collected data with either T6 or S7. However, when positioning the T7 on the waist, users will need to consider differences in data when using either posterior or anterior locations. In a posterior waist location, the orientation of Acceleration, Deceleration and COD metrics (L vs. R), will remain the same though differences in values will exist for the same rationale as differences in Player load. When the device is in an anterior waist position, the Acceleration, Deceleration and COD metrics will be in the reverse orientation (i.e. Acceleration will be Deceleration and COD R will actually be L) as the unit is facing an opposite direction. Differences in values will be expected similar to a posterior position. If an anterior waist position is used, it is suggested that the default name is changed for IMA Acceleration/Deceleration (i.e. Acceleration will be Deceleration) and COD (i.e. left will become right) in the OpenField Cloud.