What is TeamViewer?

TeamViewer is a free-to-use remote access, remote control and remote support program that allows Catapult staff to interact with your desktop platform and connected Catapult devices from a remote location. This is particularly useful during initial onboarding, or when troubleshooting an issue.
More information about TeamViewer can be found here, and a link to download the free version of the software can be found here.
Why is TeamViewer Needed?
Common reasons why TeamViewer may be required include;
Product onboarding and set-up
Live troubleshooting
File collection for investigation
General support
Providing Access to Catapult
In the event that a Catapult agent requests access to your desktop through TeamViewer, we ask that you follow these steps:
Download and install the appropriate version of TeamViewer onto your desktop.
Run the program.
Navigate to the Remote Control panel, then at the time of your scheduled meeting, send the ID and Password listed to the Catapult agent.


Your TeamViewer Session
Once the access details are provided, the Catapult agent will have remote access to the PC for as long as the session is active. You will share functionality of the desktop at this time, and can communicate through the TeamViewer program - most commonly through the text chat feature.
You will know when an agent has logged on, as a TeamViewer Panel will appear in the bottom right corner of the screen.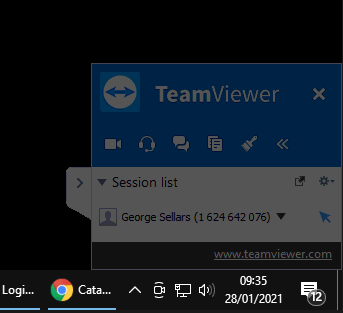 To finish a session, simply close the TeamViewer Panel, or the program itself.
TeamViewer Session Links
An alternative to this is the TeamViewer Session Link. You may have been provided with a link that appears similar to this > https://get.teamviewer.com/v15/s46441329
This link will redirect you to a page that will download TeamViewer (if it is not already installed) and start a session with the Catapult agent. They will be notified that you are ready, and will be able to log into your desktop at that time.

Helpful Hints
Unless you set a permanent password, your password will be randomly generated and change after a period of time. Because of this, we ask that you provide the TV details as close to your scheduled session as possible.

It should also be noted that a session can be re-opened for as long as the password remains the same).



Network security can often interfere with TeamViewer's remote control function. Wherever possible, we ask that you allow the program access to you desktop and through any firewall restrictions that mat have been set up.