'Upgrade Devices' Tile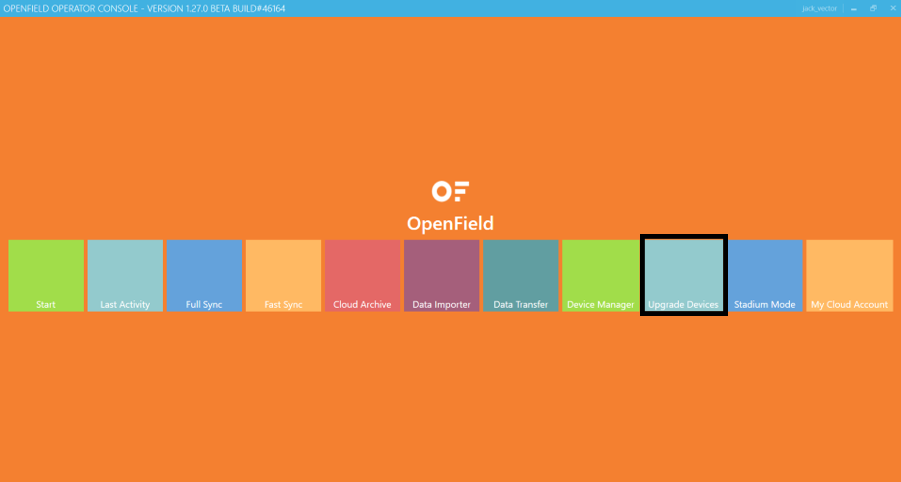 The 'Upgrade Devices' Tile on the OF Console Tile Screen allows for connected Vector Devices to have their Firmware Version updated, if a new Firmware version is released.


How to Upgrade Vector Device Firmware via the 'Upgrade Devices' Tile

Connect the Vector Dock to the PC via the USB Type B to USB Type A Cable, and open OpenField


Power on the Vector Dock


Connect/Plug in Vector Devices into the Vector Dock


Once the Vector Devices have enumerated with the Dock (indicated by GPS Device Status LED going solid White), hit the 'Upgrade Devices' Tile in OpenField


The Device Upgrade Wizard Interface will appear, indicating the amount of connected Devices, and will begin searching for an available Firmware Update


Confirm the amount of Connected Devices and select 'Update Now' to begin Firmware Update


The Firmware Update will commence. Devices undergoing the Firmware update will display an Amber Charge Status LED




Once the Firmware has been updated you will then be prompted to restart your Dock in order to proceed with the Bluetooth update. Please follow the onscreen instructions before proceeding.


Once the Update is finished the Device Upgrade Wizard will provide a Summary. Select 'Finished' or 'Upgrade More Devices' if required.