If you run OpenField on a computer that has less than 10GB in free Disk Space remaining on the hard drive you will receive the following error message: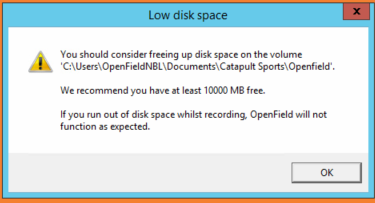 OpenField will not function if Hard Drive Disk Space becomes critically low. In addition, data will not be able to be collected either Live or Post Download, if Disk Space runs out mid Live session or Raw File Download & Process.

When you see this error, you will need to clear/free Disk Space on your Hard Drive of OpenField Data Files to make room for future sessions and general OpenField operation.


How do I clear/free up Disk Space on my Hard Drive?
You can clear Disk Space on your hard drive using the OpenField Data Manager to move OpenField's data files to a different location on or off the PC, such as a different Hard Drive or an External Drive.

Please see Data Manager Overview to find out more about the Data manager.
To learn how to move data and free up space on your hard drive without causing any issues with loading data in OpenField please see Moving Data Files & Assets.
Do I need my External Hard Drive connected to load Data I have moved onto it?
If you have moved OpenField Data files from your Hard Drive onto an External Drive, when following the guide Moving Data Files & Assets, you will need to have the External Drive connected in order for OpenField to load the Data Files when loading/opening associated Activities.